The concept of equal pay for equal work is a cornerstone workplace principle firmly rooted in American core values of equality and fairness. The vast majority of Americans support equal pay—regardless of gender, race, ethnicity, and socioeconomic level—and it is frequently identified as a top priority, especially for those who face sharp pay disparities, such as women, workers of color, workers with disabilities, and LGBTQ workers.1 Not surprisingly, many policymakers are quick to voice a pro-equal pay mantra to prove their commitment to upholding equal pay laws. Yet despite the professed support for this issue, persistent pay disparities make clear that equal pay for equal work is far from a reality. In particular, women working full-time, year-round earn, on average, only 80 cents for every dollar earned by men.2 This gap is significantly worse for women of color, and the problem persists when comparing the earnings of women and men of the same race or ethnicity.3 (see Figure 1)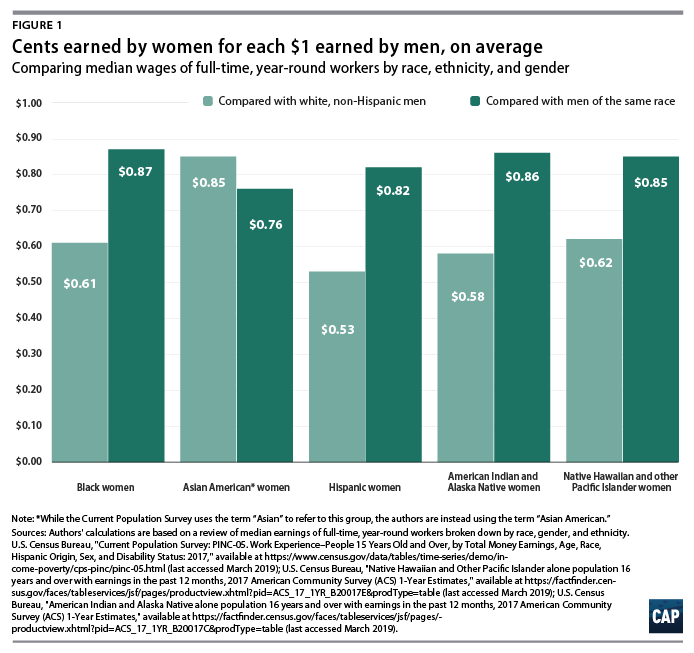 These wage gaps only grow over time. Research suggests that women lose more than $400,000 over a 40-year career due to the wage gap. For black women and Latinas, these lifetime earning losses can equal $946,120 and $1,135,440, respectively.4
Separating myth from reality
Securing equal pay requires more than words and lofty platitudes. It requires bold action at all levels. Unfortunately, the issue has become a partisan football, leading to misinformation that has stifled progress in areas where executive or legislative action could be particularly effective.
Important progress made during the Obama administration has come under systematic attack by the Trump administration, stalling Obama-era rules to promote greater pay transparency, collect pay data, and strengthen federal equal pay enforcement.5 Moreover, partisan disagreements spurred by opponents of equal pay reform have thwarted two leading federal proposals, the Paycheck Fairness Act and the Fair Pay Act—both of which would advance much-needed improvements to increase pay transparency and strengthen federal enforcement tools used to ensure compliance with the law.6 The Paycheck Fairness Act was reintroduced in January 2019 by Rep. Rosa DeLauro (D-CT) and Sen. Patty Murray (D-WA) with the support of the entire Democratic House Caucus.7 The bill's provisions would help protect workers from retaliation for discussing pay, limit the use of salary history in making hiring decisions, close legal loopholes that have helped employers avoid liability, implement negotiation skills training, require regular disaggregated pay data collection to strengthen enforcement, and improve the remedies available to plaintiffs who file sex-based wage discrimination claims under the Equal Pay Act.8 The Fair Pay Act has yet to be reintroduced in the 116th Congress. In contrast, opponents of comprehensive reform have pushed weaker measures. For example, in 2017, Sen. Deb Fischer (R-NE) introduced the Workplace Advancement Act, which proposed a narrow anti-retaliation protection for workers who discuss their pay at work.9 However, its language outlining the relevant standard that would be used to trigger the protection is unclear, and the proposal as a whole falls far short of comprehensive reform.
To make progress on equal pay and combat pay discrimination, it is critical to separate rhetorical myths from real solutions that can make a concrete difference for working families. Policymakers must understand the facts about the discriminatory practices that continue to affect women's earnings, as well as the various factors behind the persistent gender wage gap, in order to effectively promote, enforce, and protect equal pay for all. Most importantly, policymakers must reject false narratives used as a subterfuge to stall or undermine potential equal pay reforms that are long overdue. Here are 10 myths about equal pay as well as the realities behind them, which bolster the case for substantive reform.